Blogging VS Email Marketing
When new marketers come online, it is common to need to make this decision…Will you start a blog? Or will you commit to email marketing first a.k.a building a list.
Blogging VS Email Marketing
This answer really has no definite answer to it because different people had different successes with different methods. There will always be that somebody who is successful with blogging without a list and there will always be somebody who is successful with email marketing and do not own a blog.
Blogging
It's free to start right? The answer is YES! But it will be a wiser move to actually purchase a domain name and invest in a good hosting from Day 1. You will be able to establish your authority from day one. However, the investment can total up to less than $50 / year for both domain and hosting.
---
Click Here for My Recommended Hosting
---
Let's start with the pros of having a blog. It is extremely low cost to actually own a website. When you are just starting out, you can go for the cheaper prices of hosting and get good service out of it. You can always upgrade to higher needs when you need to.
As you add more content to your website, you will learn more about your own niche. At the same time, you will be able to establish yourself as an authority to your readers. With a blog, you would monetise it with affiliate ads or context ads or native ads and you can do all those for free.
However, the cons of blogging is the results obtained will be much slower. You will need to learn SEO and SEO is not something you can learn in one day and it is not something you will be able to see in the short term. When you aim to rank for a long tail keyword, it takes time to actually climb up the ranks unless you do it the Google Sniper way.
Many pro bloggers argue that the traffic you will obtain from blogging is FREE. Sounds enticing? It can be free…but it will take you a lot of time to actually be able to build up enough free traffic which will generate you the results you want – generating leads / generating impressions / generating sales.
And take a time to think about this… TIME = MONEY. Time is the most valuable commodity even money can't replace. Thus time lost is money lost. And most websites utilises some form of paid advertising to get traffic to their websites…even established websites! The reason? They can make a positive ROI from these advertisements and establish themselves faster.
Email Marketing
Most new marketers tend to avoid email marketing because of one reason – the need to pay for an autoresponder. Cold hard truth – this is the minimum amount of investment you should be making for your business. You can choose not to invest in hosting or a domain, but you will need to invest in an autoresponder.
How about free autoresponders? Well, from my personal experience, the once best free autoresopnder has also closed its doors. Even if there are free autoresponders in the market, your emails you sent out via these autoresponders will have other ads in them. They need to monetise their service because it is impossible to run an autoresponder service for free! It is just not possible.
Now, for the pros of email marketing. The concept is much more simple. You build a simple funnel which consist of:
A landing page integrated with your autoresponder
You send traffic to your landing page
Your new subscribers get redirected to a front end offer
Your new subscribers receive follow up emails from you sent by your autoresponder
You will be able to send them broadcast anytime you want to promote related offers.
---
Click Here to Try Aweber for Free for 30 Days!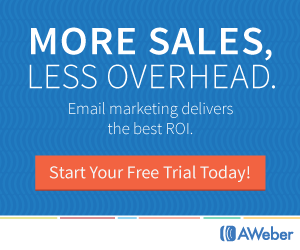 ---
Once you have your funnel set up, all that's left to do is
Drive traffic to your landing page
Broadcast to your list daily
The ultimate benefit of email marketing is the focus you can have. You got a clear plan. You will be able to generate accurate numbers on your campaigns. And you will be able to scale up your profits once you tweak your campaign to be profitable.
With email marketing, you tend to see results faster. And you will notice the bigger your list grows, your results / commissions / sales will grow with it.
You can start building your list even without a website these days because there are just too many done-for-you campaigns around. I have bought in to a few of them and most of them are the same. But my favourite service is still Web Copy Cat!
---
Click Here to Get Your Done For You System for $1
---
With such a service, you can start email marketing REALLY FAST and you can learn the ropes. Building a funnel takes time and if you are brand new, it might take days to weeks! But with a done-for-you service, you can set up a simple sales funnel in less than an hour, take another 5 minutes to order traffic, and you will have new leads by tomorrow morning…possible sales too.
Compared to blogging, the cons is of course the higher cost of operations. Autoresponder services prices tend to increase as your list size grows (as their cost to maintain your subscribers grows too because of the emails you send on a regular basis).
Blogging vs Email Marketing
If I were to do everything again…what would it be?
Well, after going through the List Synergy Trifecta course, I would do both together BUT I will FOCUS on building my email list first!
The reason as explained in List Synergy Trifecta – build your email list, earn from your list, send your list to your blog to build traffic, and over time, you will start receiving free traffic to your blog, and you can let your blog build your list.
Click Here to Grab List Synergy Trifecta
---
I would love to hear your opinions on blogging and email marketing.
Love this article? Don't forget to share it out 🙂